PH Association Public Service Announcement Debuts on NASDAQ Tower Screen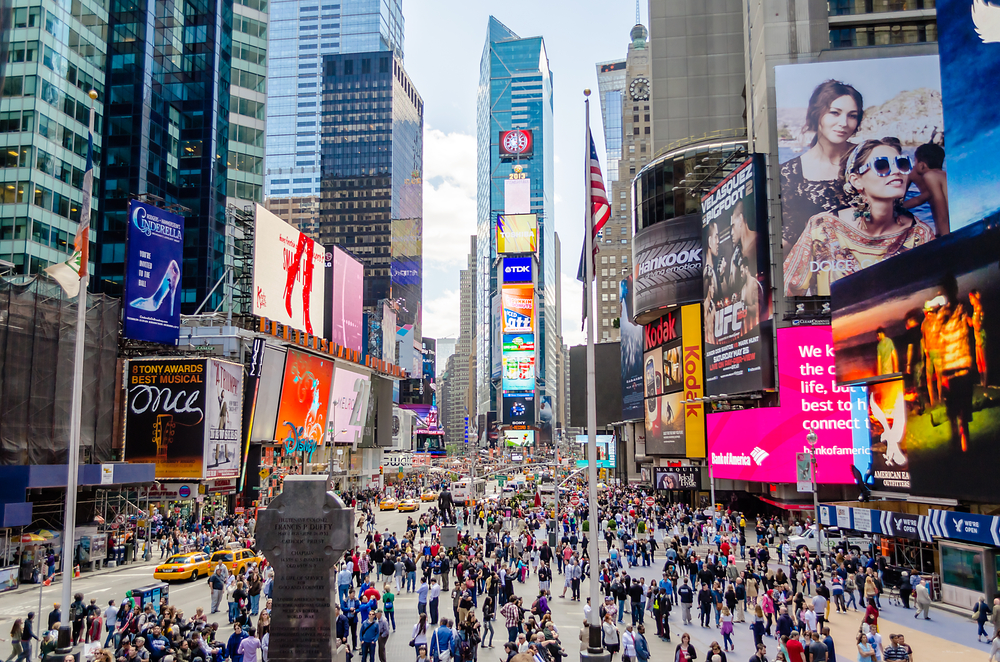 Last week, in a bold move to call for support of a rare and debilitating pulmonary disease, the Pulmonary Hypertension Association was featured on the largest screen in the world — the NASDAQ Tower on Times Square, just after ringing the opening bell for the opening of the New York Stock Exchange. The PHA's new public service announcement was designed to raise awareness on pulmonary hypertension (PH) by casting Bloomberg TV contributing editor and host of MYOB on C-Suite TV, and advocate, Jeffrey Hayzlett; Family Guy and Cartoon Network voiceover actor and PH patient Lucas Van Wormer; and Broadway actor Zach Rand as the newest faces of PH during NASDAQ's opening bell ceremony. That evening, Hayzlett also served as master of ceremonies at the association's Greater New York and Philadelphia Chapter's 2nd Annual O2 Breathe Gala at The Lighthouse on Pier 61.
Pulmonary hypertension is a rare disease that causes increased blood pressure in the lung vasculature, causing insufficient blood flow to the lungs and subsequent back flow into the right atrium. This causes symptoms that are commonly misdiagnosed for years as COPD, asthma, or signs of aging, but can eventually lead to life-threatening heart failure if poorly managed. The average survivability of PH is 2.8 years, without proper treatment.
[adrotate group="4″]
Before choosing to be a PH advocate, Van Wormer received his PH diagnosis in 2006. Together with his father, Steve Van Wormer of the PHA's Board of Trustees, who is also an On-Air Promo Producer of PH public service announcements, he has taken to using his talents and story to educate the general population about PH and motivate fellow PH patients. The PSAs have been broadcasted over 12,000 radio and television stations across the country to date, and can still be seen on some of the most popular television channels today, such as the Fox Networks Group, Fox Hispanic Networks, CBS, Radio Disney, Hulu, Univision, Telemundo, ESPN, Pivot, The CW and Universal Sports Network. The new PSAs will be running for the next 2 weeks in New York City cabs and televisions.
[adrotate group="3″]
"It's so cool to see the work my dad and I have been doing reach the biggest screen in the world. I hope this brings a lot more attention to PH so we can find a cure," said Lucas Van Wormer.
Rand is known for his memorable performances on Broadway in Les Miserables and Mary Poppins. He joined the former show's cast 9 months after his sister Chloe died of PH in 2006, and has since then been active in efforts to raise awareness and funding. In addition to Zach, his three other siblings, Liv, Ava, and Elijah, and his mother, who is the Director of Community Engagement for the association's Greater New York and Philadelphia Area Chapter, are also part of the effort. He is honored to see the PSA on the NASDAQ Tower, and feels it is the culmination of all of their efforts against PH this year.