7 Recipes for Pulmonary Hypertension Patients
Eating a balanced diet is sensible advice for anyone, but it is even more important if you have pulmonary hypertension. The body needs vital nutrients and vitamins in order to keep healthy, fight infections and perform at its best. When you are already ill, eating well can help ease the symptoms of your disease, help you recover better from treatments, as well as give you more energy and help maintain a healthy body weight.  However, pulmonary hypertension treatments can make you feel nauseous and leave you with little appetite.
Here are seven recipes you should try that are both nutritious and flavorful but are easy to eat and low in salt:
1. Vegetable Soup
A quick and easy recipe, perfect for a warming lunch on a cold fall day and packed with nutrients and vitamins.
Ingredients (serves 4):
1 tsp oil
1 medium onion, chopped
2 cloves garlic, minced
1 zucchini, chopped
1 carrot, chopped
3 celery sticks, chopped
2 cups of cauliflower, broken into small florets
14 ounce can of diced tomatoes
4 cups low-sodium vegetable broth
2 cups cold water
Pepper
4-5 Basil leaves, shredded or chopped finely
Method:
Over medium heat, saute the onion and garlic until lightly colored, add in the chopped vegetables and cook for two minutes stirring constantly.
Add the can of tomatoes, water and vegetable broth and bring to the boil. Once boiling, turn the heat down so that the soup is simmering, cover and cook until the vegetables are just softening. Add the basil, season with pepper and serve.
Source: PHWA
Find out more tips on how to eat a low-salt diet here. 
2. Zucchini Lasagna
Using zucchini instead of regular lasagna pasta sheets is a great way to enjoy this favorite if you are on a gluten-free or low-carb diet.
Ingredients (serves 8):
1 pound of ground beef or turkey
1 Tbsp oil
4 x 6-ounce cans of tomato paste
5 cups of water
1 Tbsp garlic powder
1 tsp oregano
1 tsp anise seed
Pepper
2-3 zucchinis sliced lengthways into ¼ inch strips
1 Tbsp oil
1½ cups of ricotta cheese
2 large eggs
2 tsp gluten-free flour
1 cup shredded mozzarella cheese
Method:
In a large pan over medium heat, brown the beef or turkey in the oil, once browned add in all the other ingredients and cover. Simmer on a low heat for two to three hours, stirring occasionally. This can be done in advance and frozen if preferred.
Preheat the oven to 375ºF. Lightly fry the zucchini in oil over a low-medium heat and pat dry with paper towels. In a medium sized bowl, mix the ricotta, mozzarella, eggs and flour until thoroughly blended.
Using a 9 x 11 inch baking dish, spread a little of the cheese mixture over the bottom of the dish and then make alternate layers of the beef or turkey mixture and the zucchini slices until about an inch from the top of the dish and then spread the remaining cheese mixture over the top. Bake in the oven for 35 to 40 minutes until the cheese has started to brown.
Source: PulmonaryHypertensionRN
A study has found that a high-fat diet in diabetic moms may add to the risk of pulmonary hypertension in newborns. Find out more. 
3. Salmon Cakes
Salmon is high in protein, omega-3, iron, zinc and B vitamins. This recipe is super easy to make because everything is blended together in a food mixer.
Ingredients (serves 4):
1 pound of salmon without bones or skin, roughly chopped
2 carrots, chopped
½ red onion, peeled and roughly chopped
1 stick of celery
1 large egg
2 Tbsp flaxseeds (or sesame seeds)
2 Tbsp ground almonds
1 Tbsp capers
1 cup fresh parsley (including the stem)
1 Tbsp oil
Method:
Place the salmon, onions, celery, carrots and capers into a food mixer and with the blade attachment blitz until a smooth and even consistency has been achieved.
In a large mixing bowl add the flaxseeds, ground almonds, parsley and egg and mix together. Add the fish and vegetable mixture to the bowl and stir until everything is thoroughly blended together.
Shape the mixture into individual patties, or use an ice cream scoop to make balls to flatten out. Store in the fridge for a couple of hours until ready to cook.
When ready, heat the oil in a large skillet over a medium heat and fry the salmon cakes, turning halfway through until both sides are browned and the insides cooked through (about six to seven minutes).
Source: PulmonaryHypertensionRB
Discover seven risk factors for pulmonary hypertension here. 
4. Chicken and Spanish Rice
Chicken is a fantastic source of protein and rice is a hearty and filling staple.
Ingredients (serves 5):
1 medium onion, chopped
3/4 cup green bell peppers, diced
2 tsp oil
8-ounce can of low-sodium tomato sauce
1 tsp parsley, chopped
1/2 tsp black pepper
1 clove of garlic, minced,
5 cups cooked brown rice (cooked in unsalted water)
3½ cups of cooked chicken breasts (no skin or bones)
Method:
Heat the oil in a large skillet over a medium heat and saute the onions, garlic and bell peppers until soft. Add the tomato sauce and seasonings and heat through. Finally add the brown rice and chicken and cook for another five minutes until everything is thoroughly heated through, stirring constantly.
Source: NHLBI
Discover nine diet tips for a better life with pulmonary hypertension here.
5. Turkey Meatloaf
Ground turkey is a fantastic source of protein and is lower in calories, fat and cholesterol than ground beef.
Ingredients (serves 5):
1 pound lean ground turkey
½ cup of oats
1 large egg
1 Tbsp dehydrated onion flakes
¼ cup of low-sodium ketchup
Method:
Grease and line a large loaf pan and preheat oven to 350ºF. Put all of the ingredients into a large bowl and mix thoroughly. Transfer the mixture to the loaf tin and bake for 30 minutes or until browned on top and cooked through. Serve with your choice of accompaniment.
Source: NHLB
Read how PH columnist Serena Lawrence sticks to a PH-friendly low-sodium diet.
6. Cranberry-Glazed Pork Tenderloin
With the holiday season just around the corner, this festive dish offers a low-sodium alternative to the usual fare.
Ingredients (serves 4):
1 pound pork tenderloin with fat removed
Cooking spray
1 tsp garlic powder
½ tsp lemon pepper (salt-free)
¼ tsp ground cinnamon
2/3 cup of cranberry sauce
1/2 cup of low-sugar orange marmalade
Method:
Preheat oven to 450ºF. With the cooking spray, lightly spray the inside of an 11 x 7 baking tin. Place the pork tenderloin in the pan and evenly season with the garlic powder and lemon pepper (pressing down on the pork to ensure seasoning stays in place). Begin to roast the pork in the oven for 15 minutes. Reduce the temperature of the oven to 350ºF.
In a medium bowl, mix together the cranberry sauce, cinnamon and marmalade. Take the pork out of the oven and evenly spoon ¼ cup plus two tablespoons of the mixture, return the pork to the oven and continue to cook for another 35 to 40 minutes or until cooked through.
When cooked, serve with accompaniments of your choice and use the rest of the cranberry and marmalade sauce as a dressing over the pork.
Source: American Heart Association
Discover nine tips for exercising with pulmonary hypertension here. 
7. Halibut with Scallions and Ginger
This fish dish can be cooked with any firm fish, as the Asian flavors will hold up. You can serve it with brown rice, noodles or stir-fried vegetables.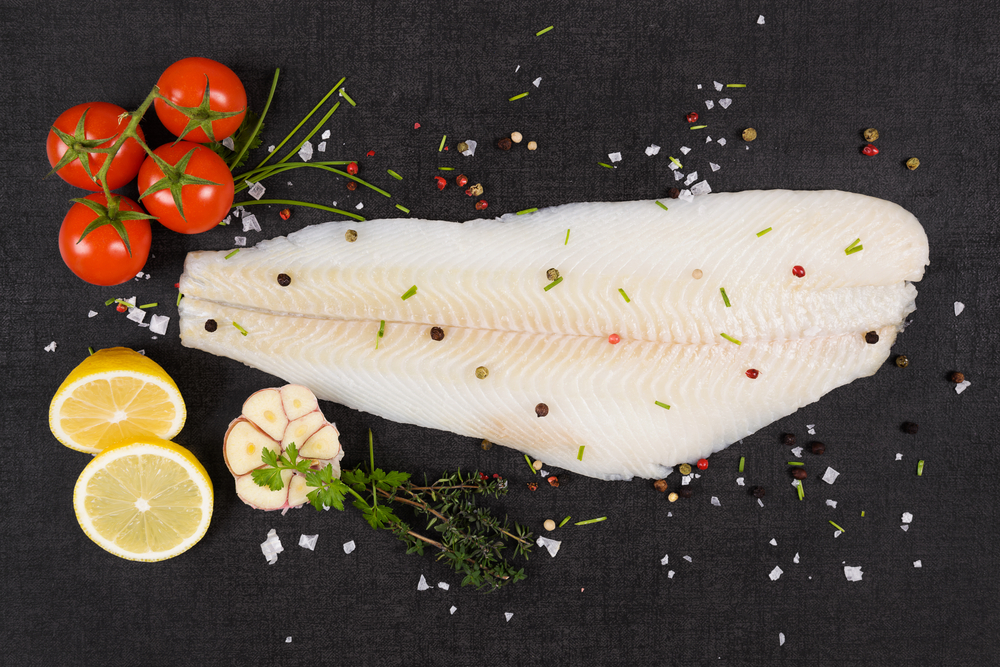 Ingredients (serves 4):
4 halibut fillets (or other fish)
3 tsp oil
¼ cup of sliced scallions (white and green parts)
1 inch of ginger, peeled and minced
1 clove garlic, minced
Zest of one lime
Juice of lime
1 Tbsp low-sodium soy sauce
1/8 tsp toasted sesame oil
Pepper
Method:
Season the fish with pepper, pressing down on the fish to keep the pepper in place.
Heat half of the oil over a medium-high heat in a large skillet and cook the fish, flipping over halfway through cooking (the cook time will vary depending on the thickness of the fillets but should flake easily with a fork when done). Transfer to a warm plate and cover.
Use the rest of the oil to fry the scallions, ginger and garlic until starting to soften and color. Add the lime zest and juice, soy sauce, pepper and sesame oil, then pour over the fish and serve with your choice of accompaniments.
Source: American Heart Association
Want to learn more about pulmonary hypertension? Here's a list of 10 questions to ask your doctor about PH.
Pulmonary Hypertension News is strictly a news and information website about the disease. It does not provide medical advice, diagnosis or treatment. This content is not intended to be a substitute for professional medical advice, diagnosis, or treatment. Always seek the advice of your physician or another qualified health provider with any questions you may have regarding a medical condition. Never disregard professional medical advice or delay in seeking it because of something you have read on this website.