Life with PH: 7 Small Ways to Take Care of Your 'Self'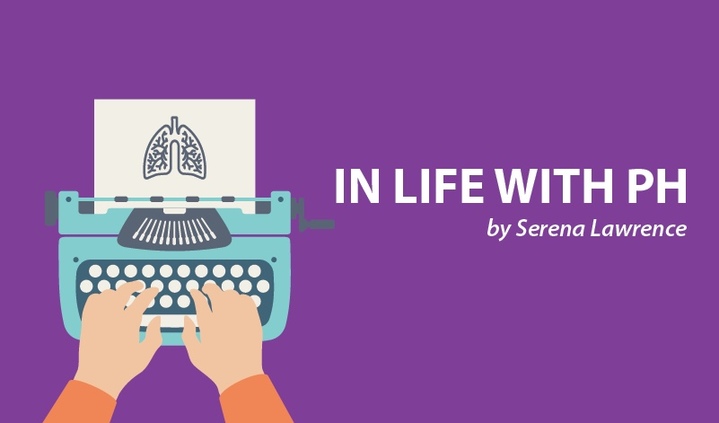 Do you practice self-care? It might sound like a silly concept, especially for people who are used to taking care of other people. However, it is important that every person gives care to themselves. I never practiced self-care until I was diagnosed with pulmonary hypertension. Unfortunately, it took that heavy diagnosis for me to learn to stop and smell the roses.
People with pulmonary hypertension and their caretakers need to take time for themselves. Self-care can range from taking your medication every day as prescribed to doing something small for yourself that simply makes you feel good and is good for your general well-being and mental health.
Below is a list of 7 little things that I learned are okay to do in order to care for myself.
1) Stay in Your Pajamas
Having a day where you're not feeling so great? There is a reason we wore jammies on the days we stayed home sick from school. Dressing comfortable will make it easier for you to nap, or just rest wherever you sit or lay.
2) Take the Elevator Instead of the Stairs
In this day and age when people are obsessed with counting steps because of FitBit, it is totally okay for YOU to move at your own pace. Do whatever you need to do to make your world more accessible. This includes using one of those fun turbo scooters at the Target store. (I have used one a few times and it made me feel like Johnny Knoxville. Beep beep!)
3) Cancel Plans
Had plans to go out to dinner with your friends this weekend? Woke up feeling awful? It is okay to cancel those plans. Your true friends and your family will understand that you may not always feel up for doing everything. Sometimes you might be too tired or in too much pain or discomfort to truly enjoy being social. The important people in your life would rather you stay home and take care of yourself than push yourself too hard.
At the same time, sometimes I feel like I might be too depressed to see my friends or loved ones. Sometimes I will cancel. But sometimes I will push myself out. The times when I do push myself, I usually feel a little better after leaving the house and having a nice time with my friends. It is important to know when to cancel your plans to take care of yourself, and when seeing your friends and having a change of scenery could help lift your spirits.
4) Have a Spa Day
Once a week I try to treat myself to a spa day— at home. Why would I need a spa day? Sometimes living with pulmonary hypertension can feel like a full-time job. I feel like I need to treat myself to something small, but special, that will help me relax and restore. About once a week I have a Lush Bath Bomb or Bubble Bar, along with a face mask. It feels like I'm sitting in a big cup of unicorn tea. And no, spa days aren't just for ladies!
Just be sure that your bath isn't too hot! If you are not comfortable taking a bath, a nice foot bath does the trick. Fill up a big bowl, or some of your tub with warm water, and add some Epsom salts and a little bit of bubble bath. Voila, luxury!
5) Have Fun
Do not feel guilty for having fun. Don't avoid doing something special in fear of what other people may think (for example, doubting the severity of your illness.) Go on vacation. Try eating at a new restaurant. Go out with your friends. Save up and buy yourself something special. Do whatever you enjoy, are able to do, and that which is special to you and makes you happy. Don't let what other people might think stop you from going out and enjoying your life.
6) Cut Negativity and Stress Out of Your Life
Easier said than done (I know). If there is any negativity that you are able to cut out of your life, do not hesitate to do it. I know that stress can often make my symptoms feel worse, so I tried my best to remove the people and things in my life that weren't healthy for me. To cope better with the stressful things I cannot control, I try to practice mindfulness and meditation on a daily basis.
7) Cheat With a Treat
Last but not least, don't be afraid to cheat with a treat! I know that many of us try to become healthier in terms lifestyle and diet after being diagnosed with pulmonary hypertension. However, I think each one of us needs a treat to look forward to everyday — or a treat after a particularly hard day.
On a daily basis, I have at least one cup of organic tea that is low to no caffeine. This is usually one thing I like to do for myself that I really enjoy. I just find having a cup of tea so soothing! Sometimes I also treat myself to a square of organic dark chocolate, or another treat that is still slightly healthy and has some health benefits.
For a real tough day, I keep some frozen cupcakes in my freezer. I have one after every pulmonary hypertension related doctor appointment. (However, the cupcakes that I have are gluten-free, dairy free, and made out of healthier and whole ingredients compared to your average baked good!)
You can still cheat, and still try to stay within the lifestyle changes you have made. It is all about finding the right balance for you!
What would you add to the list?