Love Can Make a Broken Heart Feel Strong

I have read that the heart is the hardest working muscle. If you've ever seen an echocardiogram of a heart laboring against pulmonary hypertension (PH), you'll agree.
But anyone who doesn't give the heart credit for being the strongest muscle has never met a grieving mother.
In an email interview, Gillian Murr shares how her son, Corbin Lunceford, continues to power her heart years after his death.
At 6 months old, Corbin underwent a procedure to close a common congenital heart defect, called patent ductus arteriosus, when they found idiopathic PH.
Corbin's doctors told Gillian she would probably lose him to PH within three years, but he surpassed expectations. When he turned 5, they told her he no longer had PH. Many years later, they realized the doctors had been mistaken.
Corbin also had severe autism, was nonverbal, and had global developmental delays. For this reason, Gillian doesn't believe he was aware of his health issues, but she can't be sure.
"This is something that has brought me guilt and pain. I wonder if he knew he was getting sicker. I wonder if he felt like crap. I imagine he did based on hearing how PH and its treatments make others feel," Gillian wrote.
Corbin was ineligible for a transplant, which to Gillian seems unfair.
"But I also feel, for him, it would have been too hard, and so I get it," she added.
Corbin died three years ago. Gillian shared a beautiful example of how much love can strengthen a heart, even in the worst of circumstances.
"His death was very comforting because his loved ones were with him. I got to hold him as he took his last breaths at the end of his birthday party, minutes before his 16th birthday."
On July 9, Corbin would have turned 19. Gillian invited people through Facebook to join in celebrating and remembering her son by enjoying a spaghetti dinner and root beer floats in their own homes. Gillian opened a Facebook messenger room for anyone to join and asked them to post pictures to the event page.
On a beautiful summer day in the Pacific Northwest, my son Cullen and I enjoyed a spaghetti dinner and raised mugs of root beer in remembrance of Corbin.
This interview allowed me to further reflect on Corbin's life and ask his mom what inspired this idea.
"For the first year, I decided I wanted to travel for what we call 'Corbin's Days.' But this meant that other people who might have wanted to celebrate with us couldn't, so I started the spaghetti dinner and root beer floats event. Corbin never liked cake, so on his birthday, we always had spaghetti and root beer floats instead, which were his favorites," Gillian explained.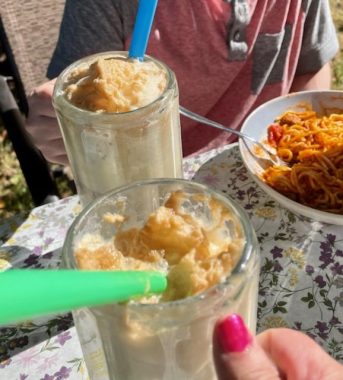 "Seeing the pictures and posts during this event brings me so much joy. The idea that there might be kids who grow up having Corbin's birthday as one of their July yearly family traditions means a lot to me, and it brings awareness to PH," Gillian wrote.
"The people who joined the FB room shared memories. We also talked about child loss. A mother who lost her son to a car accident joined. We met on vacation in Cancun, and I believe Corbin brought us grieving parents together on that trip," she added.
What I remember most from pictures of Corbin was his gorgeous hair, so I asked about it.
"Corbin's hair!! Such a love/hate relationship. He really did hate to cut his hair. It would get to a point where it was just too hard to cut, so we grew it out. We are Indigenous (Walla Walla and Yankton Sioux), and traditionally he should have long hair. His hair was down to his butt when he passed."
I was curious how Gillian has helped Corbin's little sister, Noelle Leal-Murr, deal with his passing.
"She is five years old now but was only two when he died. She was too young to remember him on her own, but she knows him from our talks. Their relationship is strong. She plays with him and includes him in things every day," Gillian wrote.
When Corbin was alive, Gillian felt it was her most important job as a parent to give him the best possible life.
"As each new challenge would arrive, I would find a way to still do the things we love," Gillian noted.
And now, three years after his death, Gillian is still doing the same for Corbin.
"I am still his mom, and I am still mothering him; it is just different now," she wrote. "I will always be his mother, caregiver, and advocate!"
***
Note: Pulmonary Hypertension News is strictly a news and information website about the disease. It does not provide medical advice, diagnosis, or treatment. This content is not intended to be a substitute for professional medical advice, diagnosis, or treatment. Always seek the advice of your physician or other qualified health provider with any questions you may have regarding a medical condition. Never disregard professional medical advice or delay in seeking it because of something you have read on this website. The opinions expressed in this column are not those of Pulmonary Hypertension News or its parent company, BioNews, and are intended to spark discussion about issues pertaining to pulmonary hypertension.