COVID-19 symptoms can linger for months in people with PAH, CTEPH
Long COVID syndrome reported by majority of 69 patients in Polish study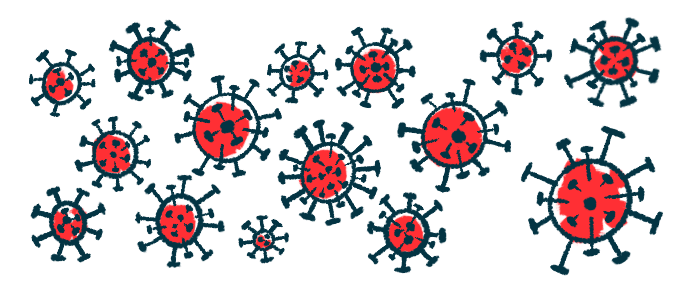 Long COVID syndrome can be common among people with pulmonary arterial hypertension (PAH) and chronic thromboembolic pulmonary hypertension (CTEPH), affecting more than 60% of patients infected with the SARS-CoV-2 virus in a study from Poland.
Despite the persistence of COVID-19 symptoms, no change was evident in the patients' risk of death at one year.
The study, "Long COVID syndrome after SARS-CoV-2 survival in patients with pulmonary arterial hypertension and chronic thromboembolic pulmonary hypertension," was published in the journal Pulmonary Circulation.
PAH/CTEPH patients at risk of poorer outcomes with COVID-19
Infection by SARS-CoV-2, the virus that causes COVID-19, is linked with a higher risk of poor outcomes in people with PAH and CTEPH relative to the general population. This may be the result of these conditions affecting the lungs and heart, as well as of patients having made fewer visits to pulmonary hypertension centers during the pandemic, hampering both an earlier disease diagnosis and detection of disease progression.
"In the first months of the pandemic, March–May 2020, the mortality rate due to COVID-19 among PAH/CTEPH patients was reported to be around 45%; in subsequent months the rate was 8%–22%," the study noted.
Whereas PAH is characterized by the narrowing of blood vessels called the pulmonary arteries, which transport blood through the lungs, CTEPH occurs when blood clots obstruct the pulmonary arteries, restricting blood flow and raising blood pressure.
Patients who continue to experience COVID symptoms for at least three months after the onset of an acute infection are defined as having long COVID syndrome. Fatigue and shortness of breath are its most common symptoms.
Data, however, is lacking regarding the prevalence of long COVID in PAH/CTEPH patients and how it may affect their prognosis.
An observational study conducted by researchers in Warsaw evaluated outcomes for 69 adult patients (68.1% female; median age of 47.5): 54 diagnosed with PAH (78.3%) and 15 with CTEPH (21.7%). All had survived an acute SARS-CoV-2 infection and had follow-up data covering at least three months after COVID-19 symptom onset.
In a questionnaire, these people were asked about persistent symptoms associated with the infection.
At the acute phase of the infection, 12 of the 69 patients (17.4%) were hospitalized due to COVID-19, but none required intensive care. The other 57 (82.6%) were treated at home.
Their most common symptoms were fatigue (77%), fever (59%), muscle pain (59%), joint pain (47%), and headache (44%). Shortness of breath, defined as new onset or the aggravation of existing dyspnea, also was reported by 32% of the patients.
62% report at least one lingering symptom months after COVID onset
At a follow-up after a median of 155 days (about five months) following symptom onset, 62% of patients reported at least one continuing COVID-related symptom and 20% noted at least five symptoms.
"This is in concordance with the general population, where 39%–76% of people who had survived COVID-19 reported [one or more] symptom lasting 103–186 days after the onset of symptoms," the researchers wrote.
Fatigue (30%), joint pain (23%), muscle pain (17%), and nasal congestion (17%) were among the most frequently reported symptoms of long COVID.
At the study's start, most patients (72%) had a low or moderate-to-low risk of death one year later, and that risk did not change significantly, dropping to 68% of patients at follow-up. Key disease assessment measures, such as WHO functional class, distance walked in six minutes — an assessment of exercise capacity — and the heart failure biomarker NT-proBNP, also did not change significantly.
"In our study, more than 60% of PAH/CTEPH patients who had survived COVID-19 reported symptoms of long COVID," the researchers wrote, adding that their risk of death at one year was not affected by the viral infection.
Among the study's limitations were its small size, and the decision to exclude PAH/CTEPH patients treated for COVID-19 "who were unable to complete the 6MWT, or who had a lung transplant," which may have influenced the results.