Vasopressin Found to Ease PH Symptoms in Newborns: Case Series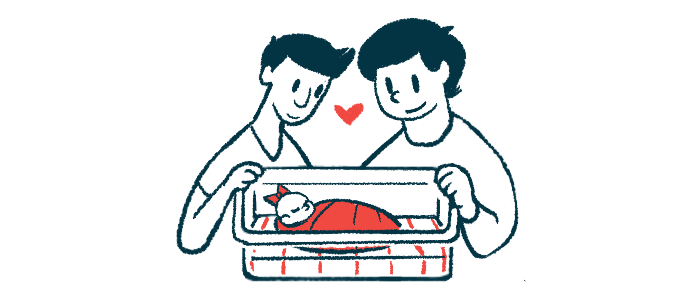 The use of the hormone vasopressin successfully stabilized symptoms associated with pulmonary hypertension (PH) in newborns, and avoided the need for more invasive treatment approaches in some infants, according to data from 10 cases.
"Although our findings are exploratory and further research is needed to establish safety and efficacy, our experience suggests that vasopressin may have rescue properties in the management of refractory [treatment-resistant] persistent pulmonary hypertension of newborn," the researchers wrote.
The study, "Use of vasopressin in persistent pulmonary hypertension of the newborn: A case series," was published in SAGE Open Medical Case Reports.
Persistent PH in newborns results from a delay in the transition from fetal, or in utero, to neonatal — after birth — circulation of the blood.
Before birth, blood pressure in the arteries supplying blood to the lungs is very high, since the baby's own lungs are not yet being used for breathing. After birth, a shift must occur to allow the infant's heart, lungs, and circulatory system to work as needed. When this process is delayed, newborns develop persistent pulmonary hypertension.
Treatment approaches for these babies include breathing support and the use of inhaled or into-the-vein (intravenous) medications to expand the blood vessels (vasodilators). That in turn allows the blood to flow more easily. Inotropic agents, or medications that affect the contraction of the heart muscle, also are used to stabilize blood circulation and optimize oxygen supply.
Babies who fail to respond to these strategies may require a more invasive approach, such as extracorporeal membrane oxygenation, called ECMO. In this approach, blood is pumped out of the body into a machine that removes carbon dioxide and then re-sends oxygen-rich blood back into circulation.
Vasopressin, a hormone that helps regulate blood pressure, has been suggested as a potential treatment approach for PH in newborns. The hope is that it could help avoid the need for ECMO in these infants.
Now, a team of researchers at Drexel University College of Medicine and St. Christopher's Hospital for Children, both in Philadelphia, described the cases of 10 newborns with severe persistent PH who were treated with vasopressin at the hospital. The seven boys and three girls were born from January 2017 to December 2020.
The babies were born at an average of 38 weeks of pregnancy, and with a mean weight of 3.2 kg (about 7 pounds). Meconium aspiration — when a newborn inhales feces and amniotic fluid during birth — was the leading cause of PH, accounting for half of the cases.
Six babies (60%) received therapeutic hypothermia, or cooling, for moderate to severe hypoxic ischemic encephalopathy. This is a type of brain impairment caused by deficient oxygen levels and blood flow.
Before starting vasopressin, all newborns were given inhaled nitric oxide — a vasodilator — and used a median of two inotropes or vasopressors. Vasopressors work by narrowing blood vessels, thereby increasing blood pressure.
Treatment with vasopressin, given directly into the bloodstream, was started a mean of 30 hours after birth and at doses per hour ranging from 10 to 85 milliunits per kilogram of body weight. The therapy was administered for a mean of 53 hours, or just longer than two days.
Results showed that PH signs were reduced with vasopressin treatment. The average blood pressure in the arteries was increased after an hour of treatment, and the oxygenation index, a measure of the lungs' ability to transfer oxygen from air to blood, was improved by 50% after 12 hours.
The need for inotropes and vasopressor medications also was reduced with vasopressin treatment.
While all of the newborns met the ECMO criteria prior to the start of vasopressin, half avoided the invasive approach. In the five children who needed it, ECMO was initiated at a median of seven hours after starting vasopressin treatment.
Notably, five of the six newborns who received vasopressin for at least 12 hours avoided ECMO, suggesting that at least this length of treatment may be beneficial, the researchers noted.
The most notable side effect associated with vasopressin treatment was temporary low sodium levels in the blood. These levels reached their lowest at 24 hours and improved by 72 hours, or after three days.
At discharge, three babies required a feeding tube, and one needed supplemental oxygen. All 10 babies survived to the time of discharge.
These findings highlight that "rescue therapy with vasopressin stabilized [blood flow] in a subset of neonates with refractory [persistent PH]," the researchers wrote.
Future research "is needed to determine the optimal timing of vasopressin initiation and duration in this unique population," they concluded.