Uptravi Eases Disease Severity in PH, Improves Heart Health: Study
Approved therapy recommended for patients with PAH and CTEPH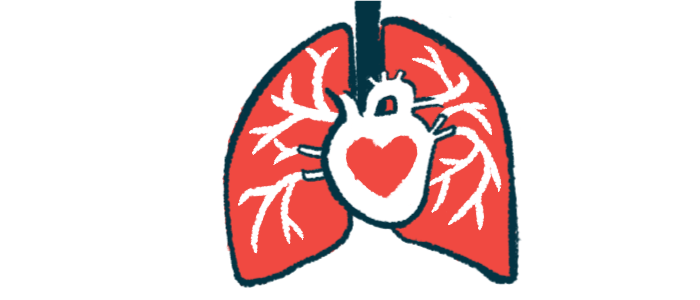 Treatment with the approved therapy Uptravi (selexipag) safely reduces disease severity and improves heart and lung health in people with pulmonary hypertension (PH), according to a review study.
Researchers recommended that Uptravi be considered for use in patients with pulmonary arterial hypertension (PAH) or chronic thromboembolic PH (CTEPH).
"The percentage of patients with hospitalization for worsening of PH was significantly lower in [Uptravi] groups," the team wrote.
The study, "Selexipag in patients with pulmonary hypertension: a systematic review and meta-analysis of randomized controlled trials," was published in the journal Current Problems in Cardiology.
Uptravi clinical trials in review
Despite the availability of therapies for all PH types, outcomes among patients remain poor. Thus, treatment advances are still needed to improve the prognosis for people with PH.
Uptravi, given orally or via intravenous (into-the-vein) infusion, mimics the action of a molecule called prostacyclin, which causes the blood vessels to relax and widen, thus decreasing blood pressure.
In doing so, the therapy is intended to delay disease progression and reduce the risk of hospitalization in PAH patients.
Approved in the U.S. in 2015, the therapy also is available in more than 60 countries.
However, only a few clinical trials of Uptravi in people with PH used a control group and randomly assigned patients to different groups to assess the medication's efficacy and safety. In addition, study results are not consistent.
To learn more, researchers in China conducted a review study and a meta-analysis — one that pools data from multiple studies — of clinical trials testing Uptravi in PH patients.
The review included studies published through September 2022. These were found on the PubMed, Embase, and Cochrane Library databases, as well as on clinicaltrials.gov.
Ultimately, five randomized controlled trials of Uptravi were included, all with a follow-up duration of at least 12 weeks, or around three months.
A total of 1,558 patients were included in the study: 794 received Uptravi and 764 were in control groups.
Outcomes analyzed included hospital admissions due to worsening of PH, World Health Organization functional classification (WHO FC), and mean pulmonary artery pressure. Levels of NT-proBNP, a biomarker of heart failure, and pulmonary vascular resistance (PVR) — a measure of the resistance to blood flow within the pulmonary circulation — also were examined.
Another assessment was the effect of Uptravi on 6-minute walk distance (6MWD), a test of physical fitness that measures how far a person can walk in six minutes.
Of note, not all of the five trials had data for each measure analyzed.
The results indicated an improvement in the clinical status of patients treated with Uptravi compared with those in the control groups. This was reflected in fewer Uptravi-treated patients being hospitalized due to disease worsening (13.77% vs. 20.11%), as well as in a higher number of patients who had improved (lowered) their WHO FC — specifically, 22.17% vs. 18.44%.
Treatment with Uptravi also was found to significantly improve heart and lung health by lowering mPAP by 0.70 mmHg, reducing NT-proBNP levels by 150.19 nanograms/L, and improving cardiac index by 0.37 L/min/square meters.
No significant benefits of Uptravi were found on the 6MWD, PVR, and mortality rate. Also, no significant differences between the groups were reported for the proportion of patients with at least one adverse event (side effect) or one serious adverse event.
Based on these results, the researchers highlighted the importance of considering the use of Uptravi in people with PAH and CTEPH.
"Despite guidelines recommending combination therapy targeting multiple pathways of PAH, patient outcomes remain poor," the team wrote.
People with CTEPH typically have abnormally high pressure in the blood vessels of the lungs, caused by the formation of blood clots. Those with PAH, meanwhile, normally have narrowing of the small blood vessels, called the pulmonary arteries, that transport blood through the lungs.
CTEPH patients have two surgical options — a procedure called pulmonary endarterectomy and a technique known as balloon pulmonary angioplasty. However, "some patients who are ineligible for treatment or have residual or recurrent PH still lack effective treatments," the team wrote.
As such, future clinical trials "should elucidate the efficacy of selexipag [Uptravi] on long-term outcomes of PAH and CTEPH, especially mortality, and explore the possibility of selexipag in the treatment of other types of PH," the researchers wrote.